Happy
Brokers, Employers, Employees
WHETHER YOU'RE A BROKER, EMPLOYER, OR EMPLOYEE,
BCC STANDS OUT.


Again, thanks to BCC for another smooth Open Enrollment. It's always great working with you guys on these projects. You're very responsive when/if any issues pop up. I appreciate you blocking off the time on your calendar each week for us even if we skip the phone calls.
HR Analyst
Turlock Irrigation


I wanted to take a moment to say your team is GREAT! You are so responsive and efficient in handling so many inquiries. I know we only work together on one account and you probably have many others but I never feel like that. So thank you!
Account Executive
Alliant Insurance Services


Karen is a superstar! She is always very helpful and very responsive with questions or issues I have. It makes my life SO much easier when I have a reliable point of contact for service issues.
Account Executive
Payne West Insurance Services


I'm happy to report we have another month of zero billing discrepancies. Thank you again to you and your team for the continued exceptional performance. It doesn't go unnoticed!
Account Lead
United Health Care


BCC is a perfect example of how to send a correct eligibility file to BSC. I could use your best practices and guidance for some other clients and your support would be greatly appreciated.
Eligibility Analyst
Blue Shield of California


You folks are the best, and I have made it clear to co-workers, friends and family that BCC is on your side, ready and willing to help when you need it, and you've proved it once again.
SmartCare FSA Participant
BCC Case Study
See why one client has partnered with BCC for over 10 years
BCC stands ready to serve you with proven, market-changing technology and a team of benefits experts. Download this free case study to learn how one client has partnered with BCC for over 10 years to provide their employees with high-quality care and a seamless benefits experience.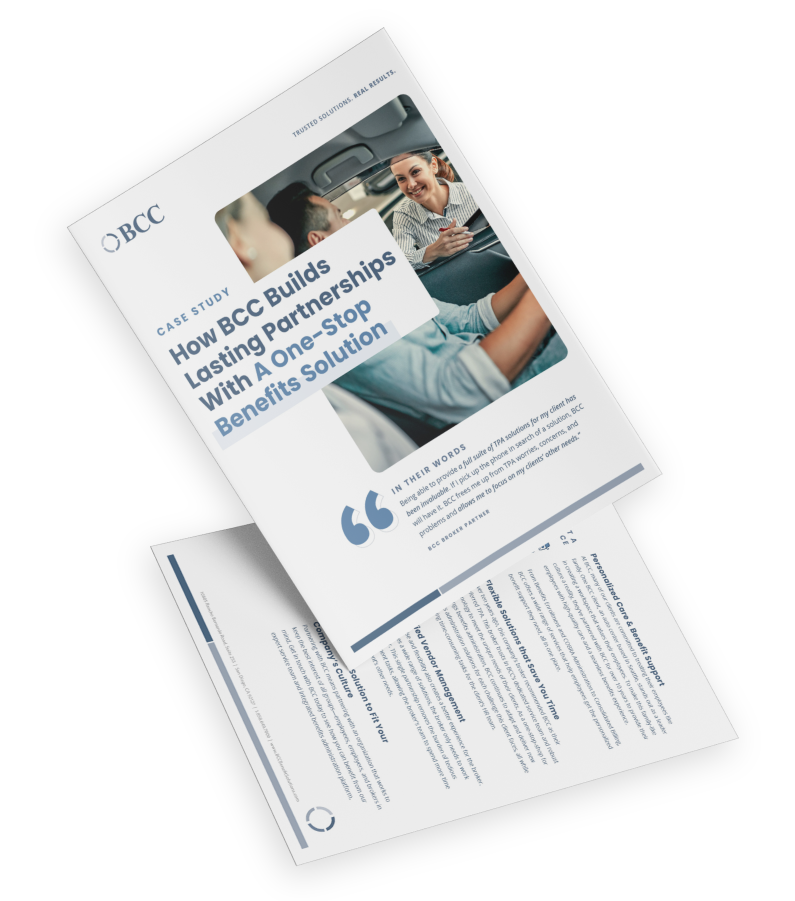 I always feel comfortable addressing BCC's services to our employees. Adia has never failed in making herself accessible, even on extremely short notice. Her knowledge of BCC's services and means of clearly explaining them to me, has been far beyond my expectations.
Employee Benefit Coordinator
Venango County Human Resources Department
Get In Touch
We Can't Wait To Speak With You.
Fill out the form and our sales team will be in touch as soon as we are able.